Regular price
$39.95
Sale price
$19.98
Unit price
per
Sale
Sold out
The Magnetic Elbow Support is perfect for those suffering from tennis elbow, golfers elbow (medial epicondylitis), elbow tendonitis, cubital tunnel syndrome, ulnar nerve entrapment, bursitis elbow and much more.
The Magnetic Elbow Support offers great support to your injured elbow while accomodating for swelling during recovery. All while offering the benefits of magnetic therapy. 
The wrap-style elbow support gives flexibility and also supplies static magnetic therapy. The 12 embedded therapeutic magnets are strategically placed throughout the elbow support. 
The neoprene has a thermal effect that may help with elbow pain and stiffness. The elbow support also has adjustable compression straps for a further customised fit.
This elbow support is ideal for arthritis, stiffness, elbow strain and much more.
Benefits of Elbow Support
Elbow pain can hamper your lifestyle, especially when you reach to hug a loved one or want to pick up a grandchild. We believe it is essential to address these kinds of issues with elbow supports as soon as you feel uncomfortable. It is hard to imagine just how much you use your elbow until the simplest of actions cause pain. Learn how an elbow wrap or brace can help you manoeuvre at your best more quickly.
Pain develops whenever there is inflammation of the tendons in the elbow. It is imperative to address the pain as soon as possible to avoid more damage to the area.


A magnetic elbow brace may offer instant relief, and when your tendons are no longer stressed, they have time to heal. A brace will also keep your arm from unwanted movement. You may not realise how many repetitive movements you make in everyday life, and a brace will help stave off future injury by slowing down those movements. It may help to avoid pain after a strain or injury, and aids in preventing more pain afterwards. The neoprene in our product has a thermal effect that can further help with pain and stiffness. When the muscles are warm, they move with greater ease. The neoprene is soft with elastic stretch for comfort. It is lightweight and easily fits under your clothing.
Arthritis of the elbow is a common issue for mature adults. The early symptoms include pain, swelling, stiffness, and lack of full movement. If the pain occurs after an injury; however, it may be imperative to see a doctor to determine if there are no broken bones. The best advice is to rest the elbow no matter the reason for the pain, and give it time to heal. Wrapping your elbow in an elbow support brace allows the body's natural healing process to begin, and this works in conjunction with resting it.
View full details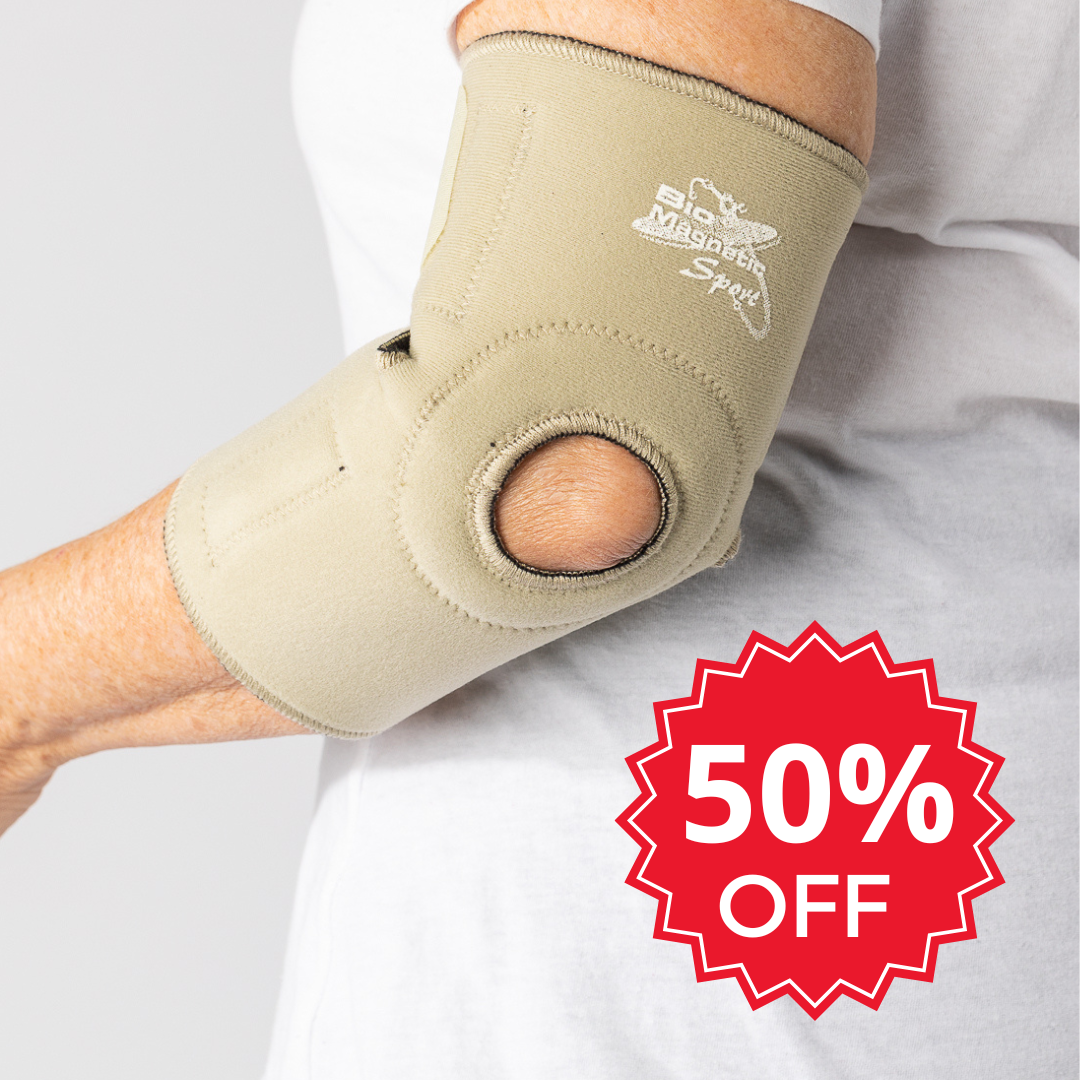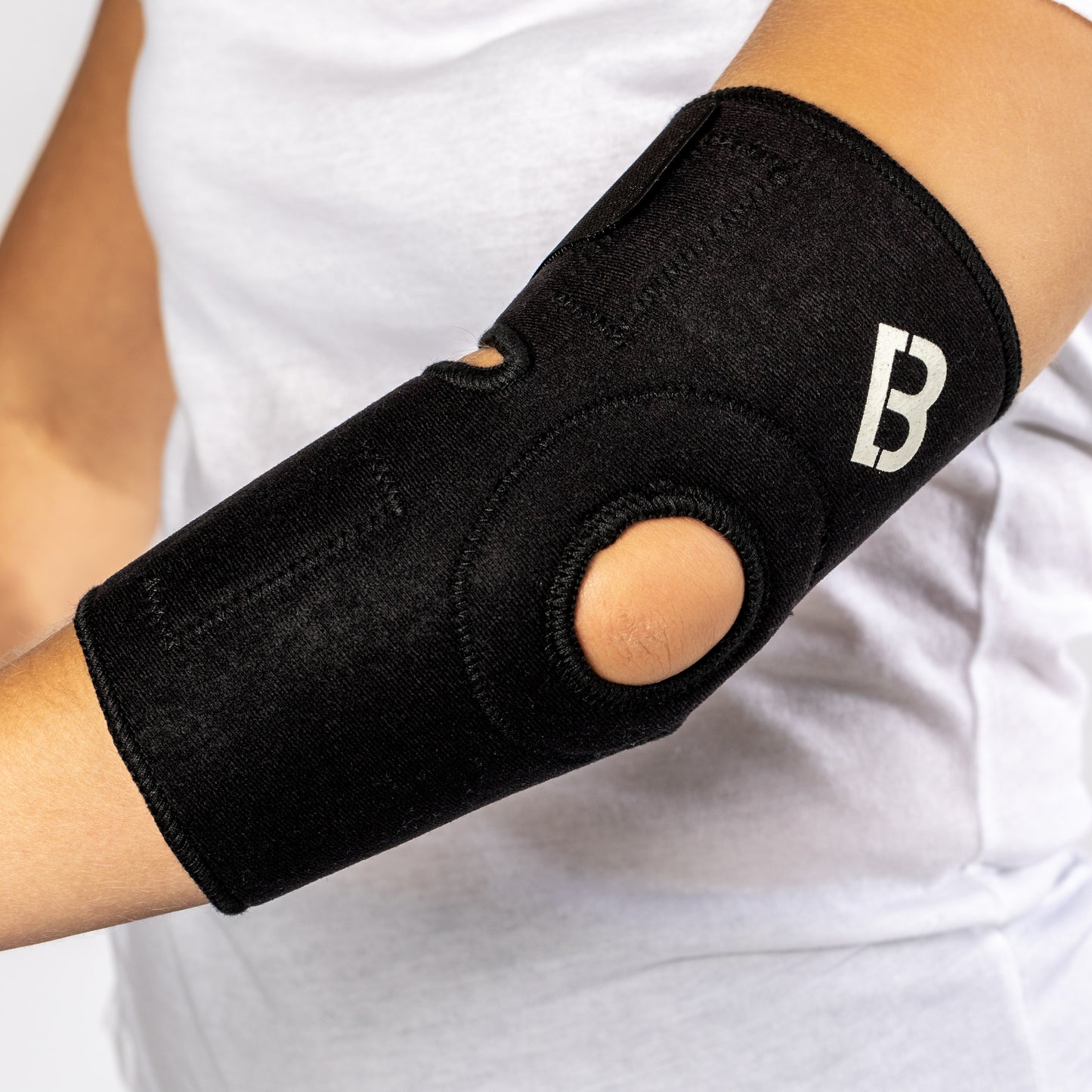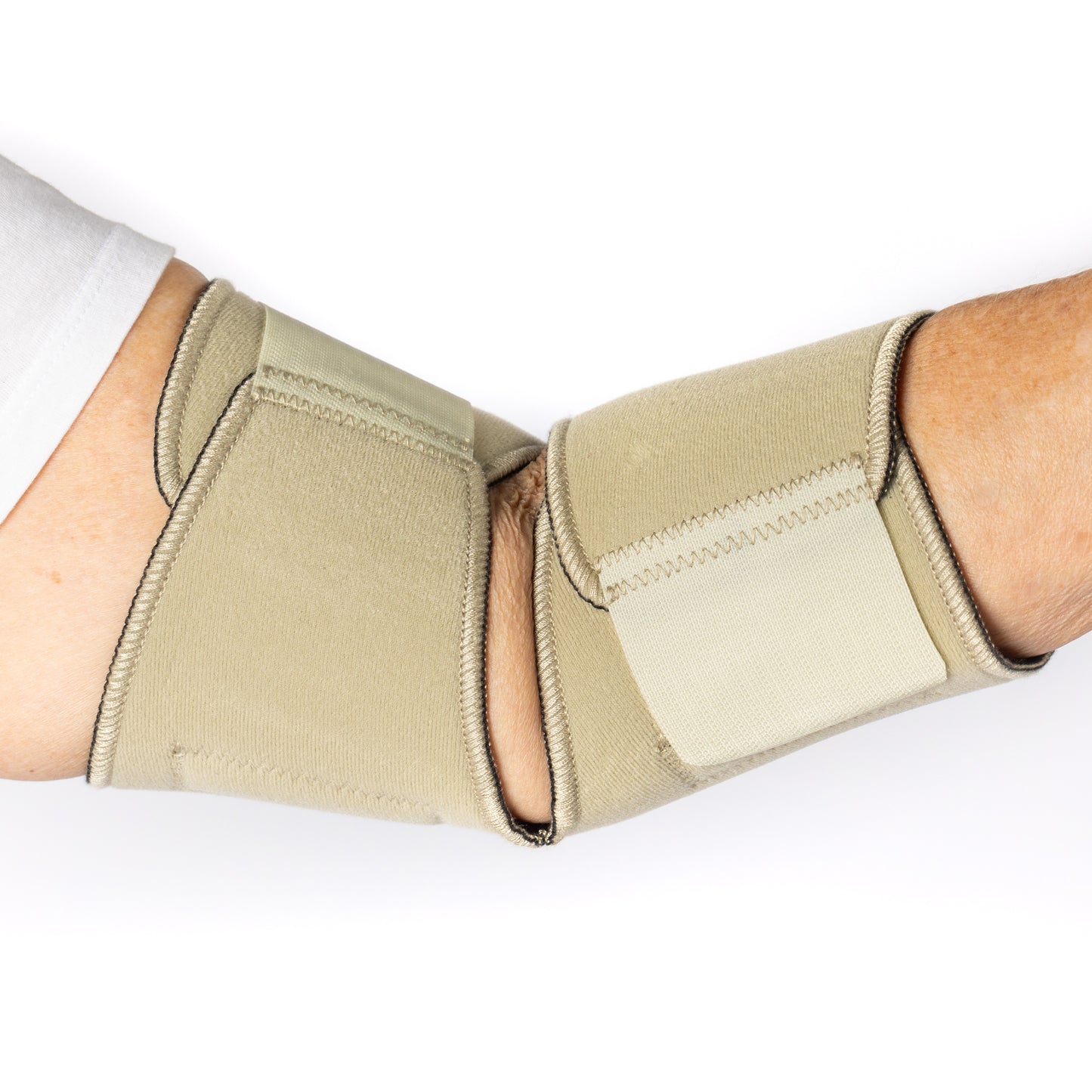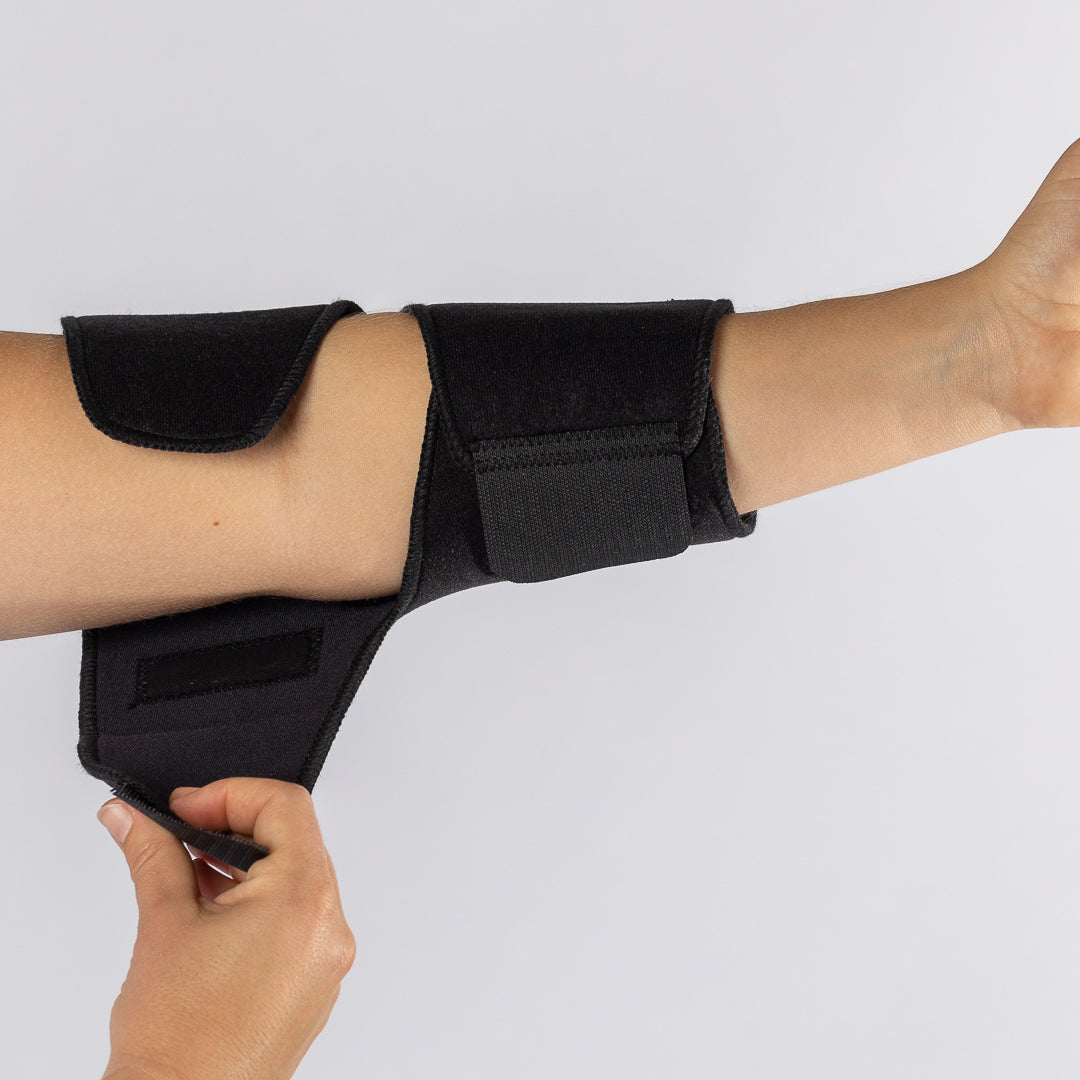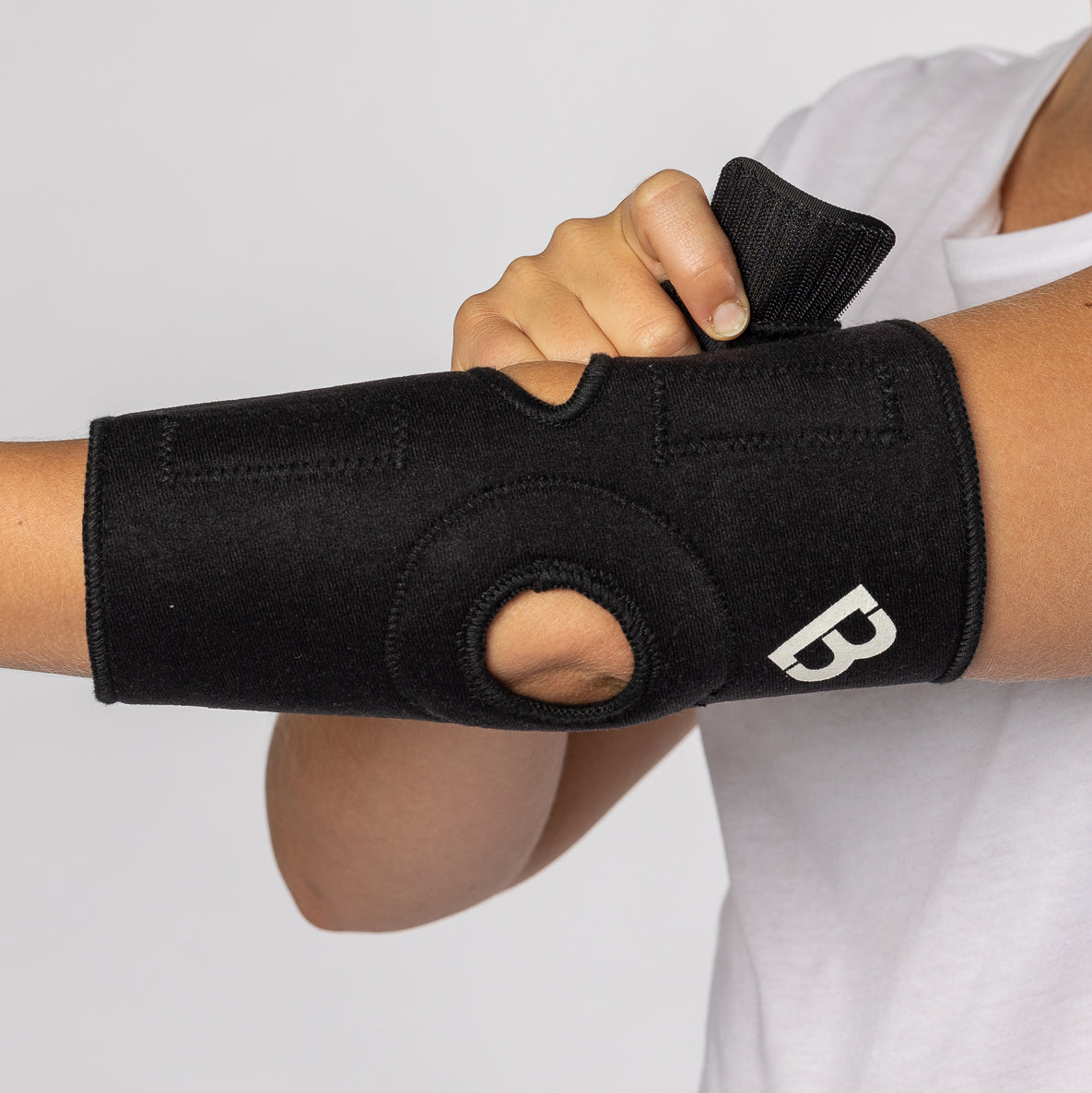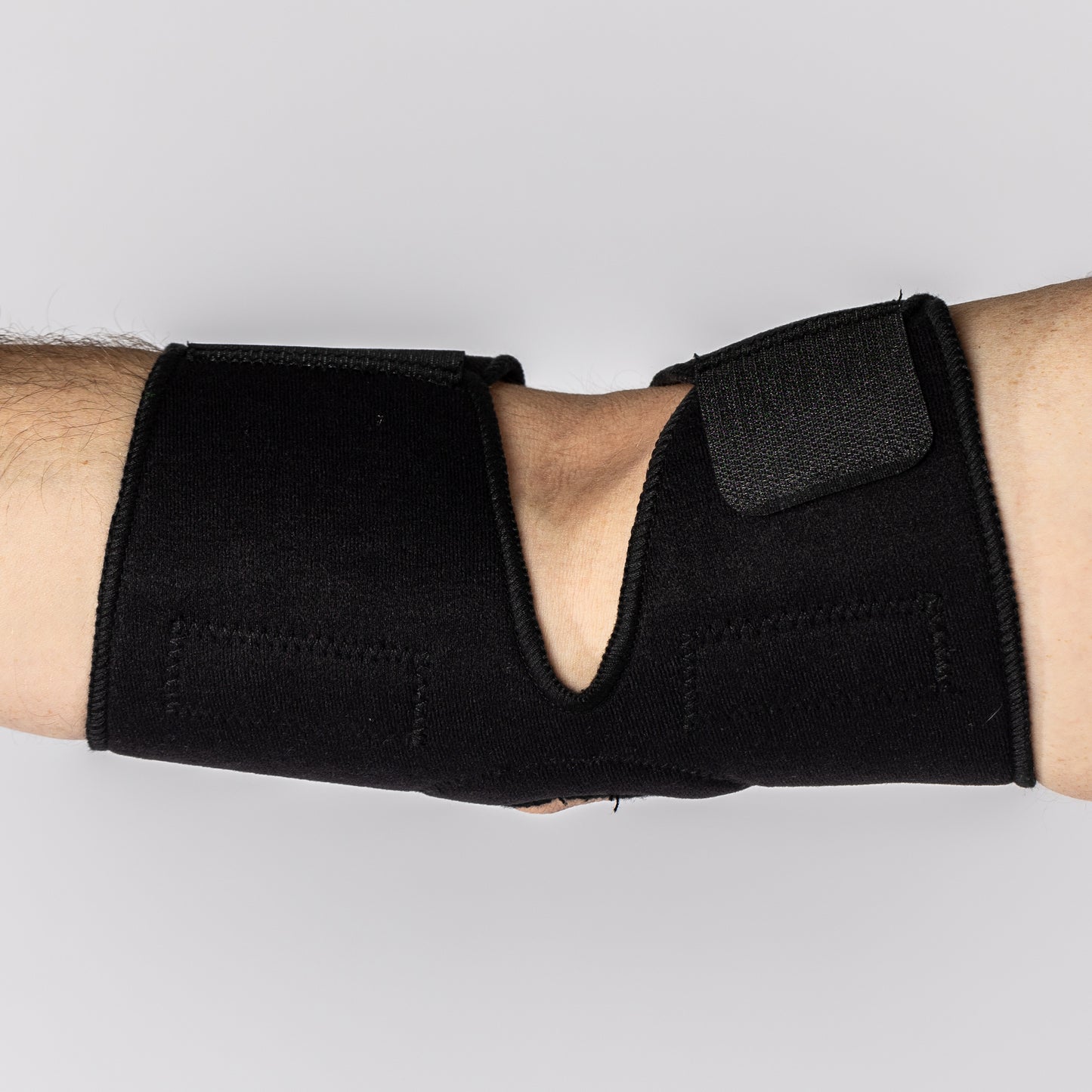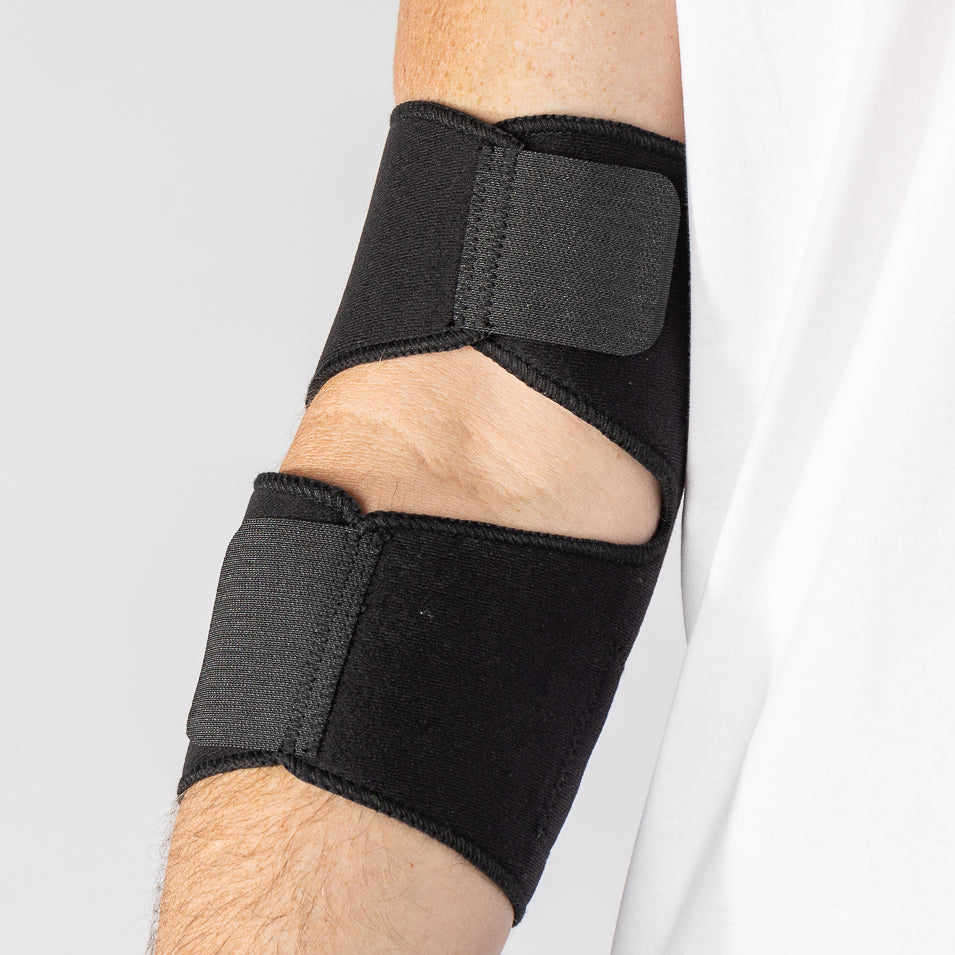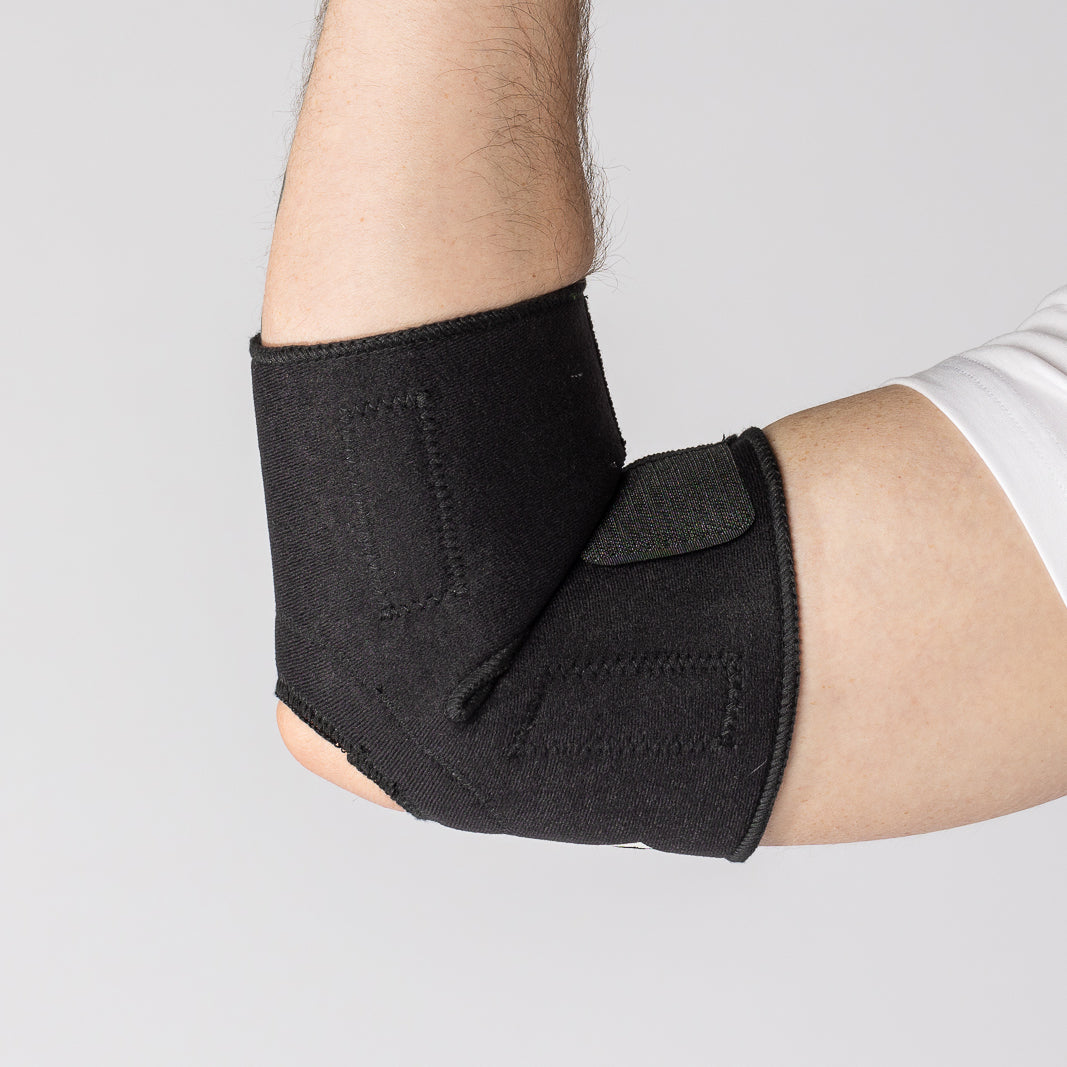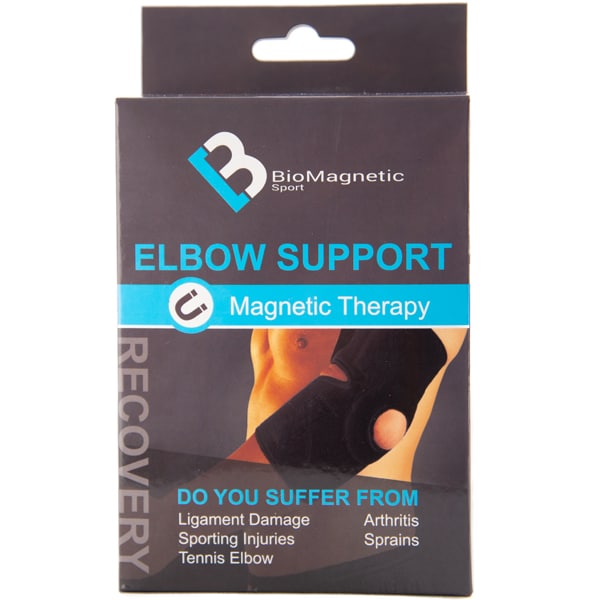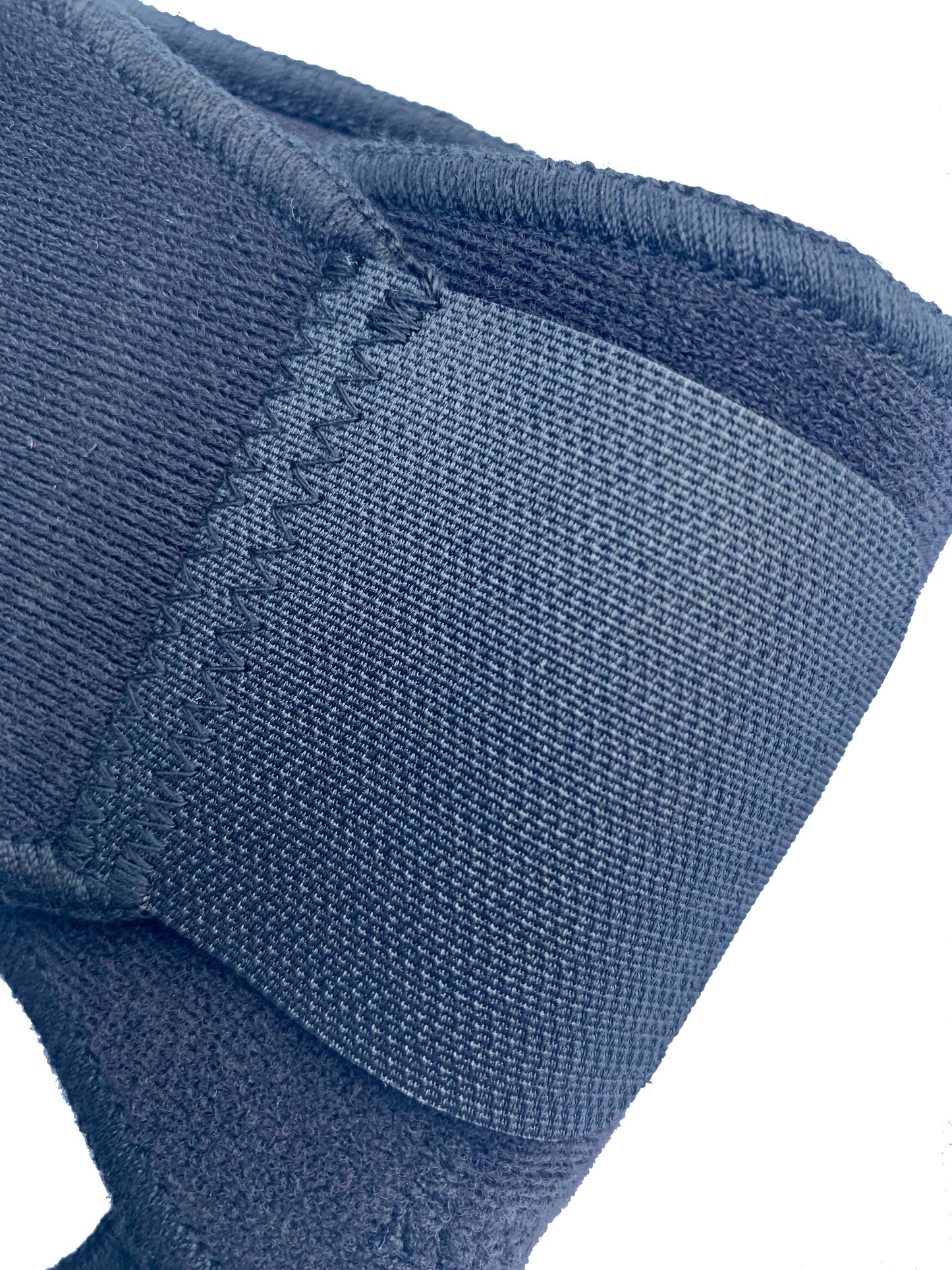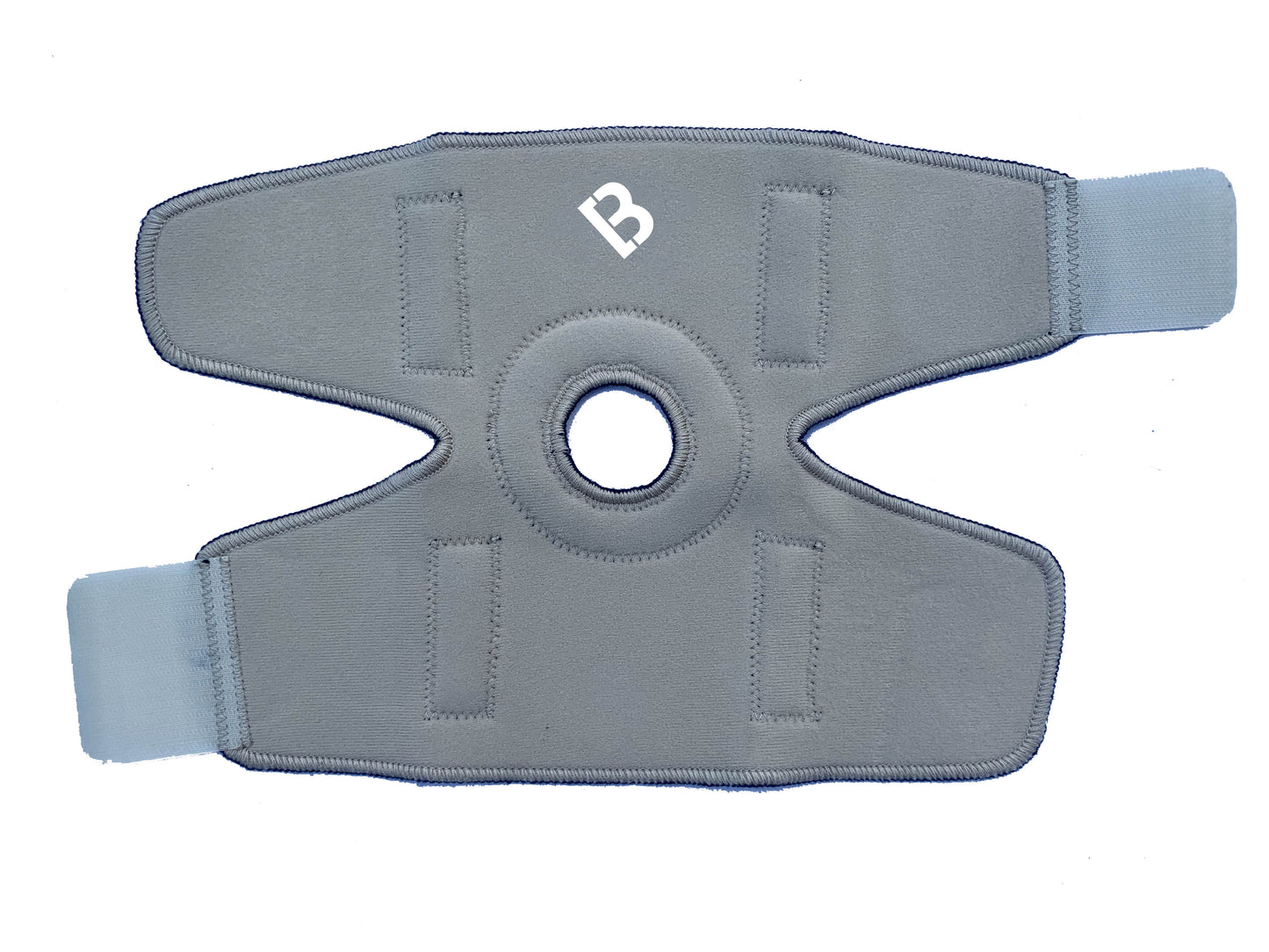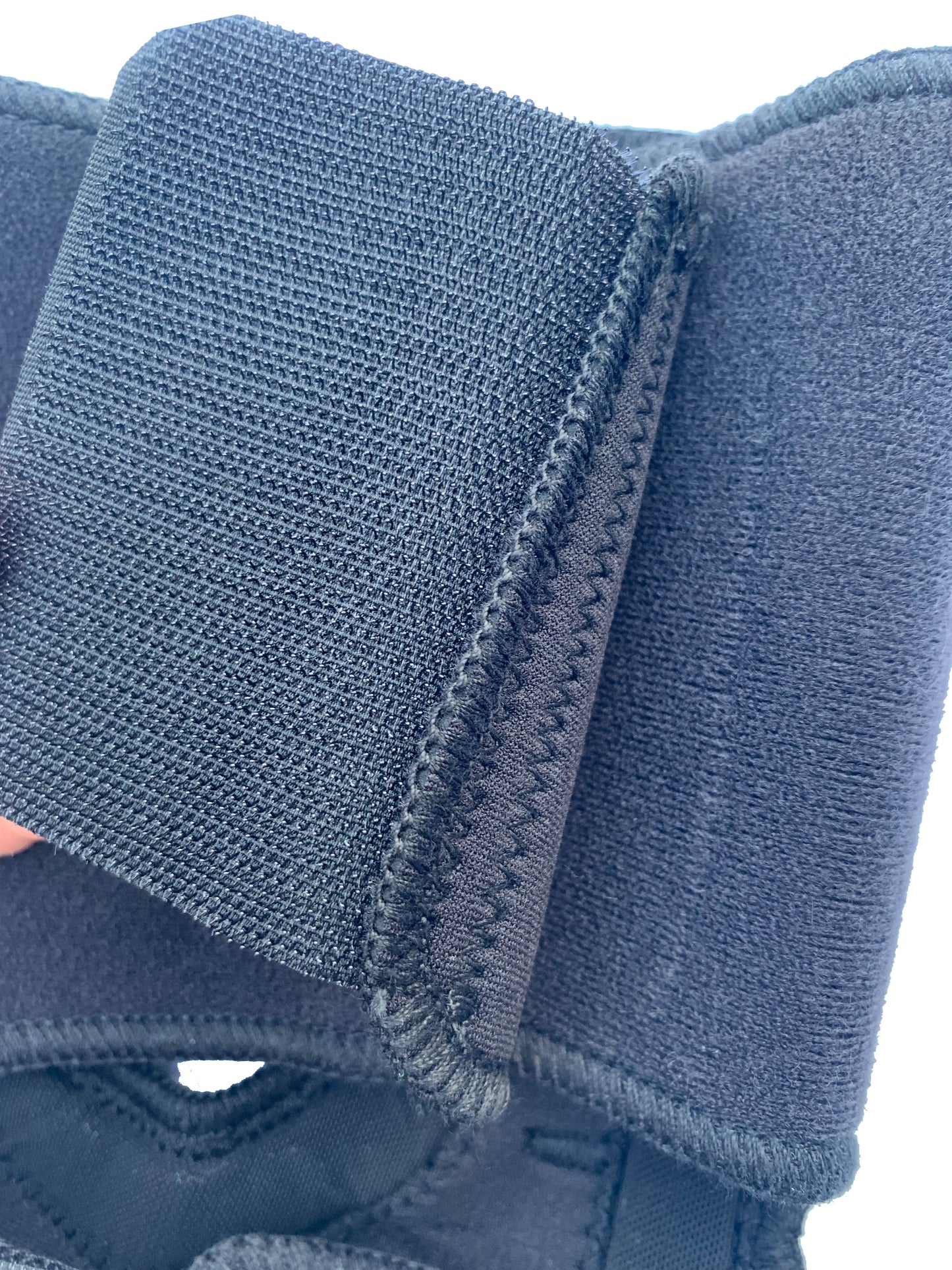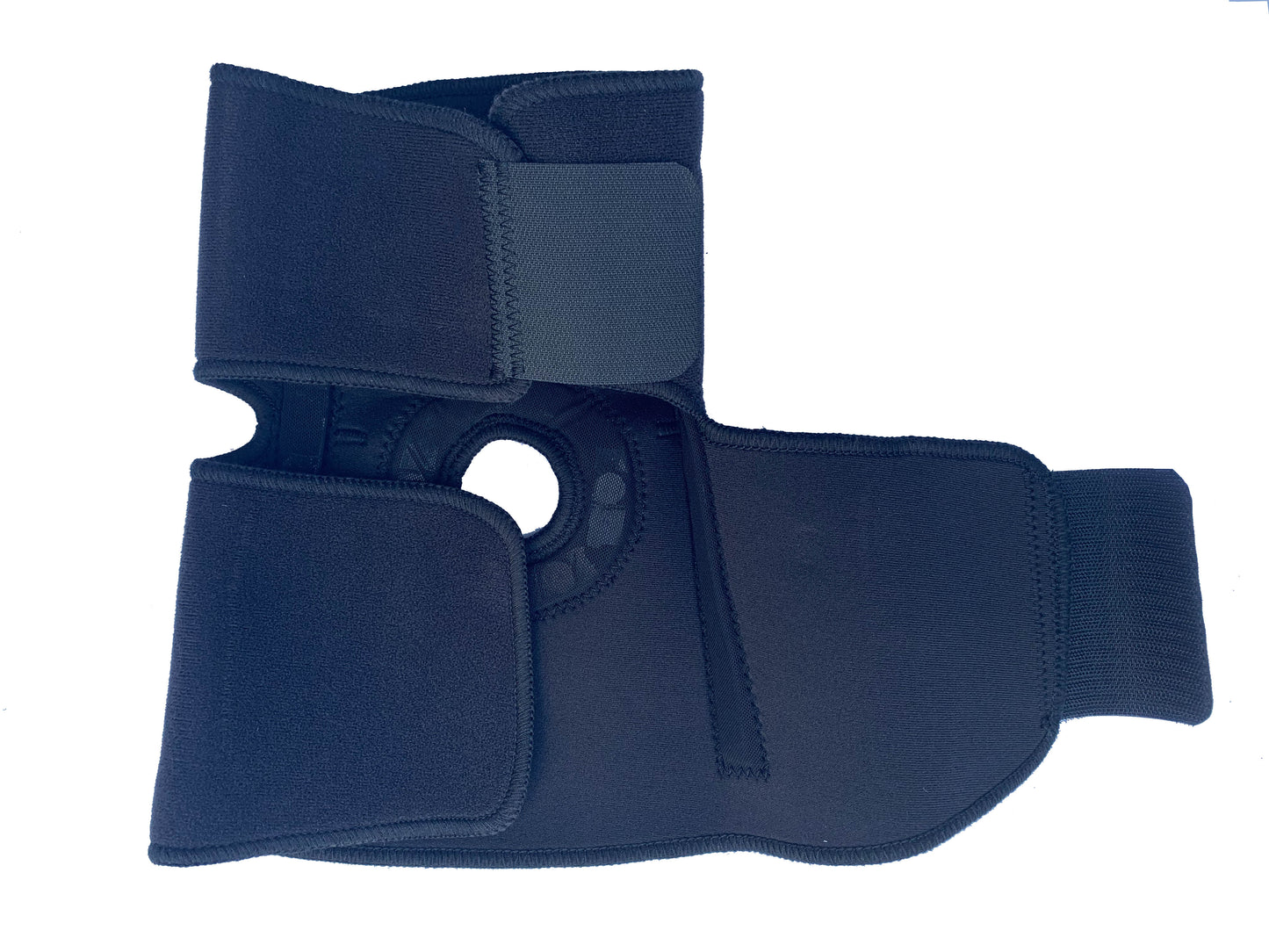 Bio Magnetic Elbow Support Wrap
Key Features

⦿ 🧲 12 powerful therapeutic static magnets with 1000+ Gauss Rating.

⦿ Great for arthritis, inflammation, ligament or deep tissue damage, sprains or sporting injuries.

⦿ Soft and comfortable neoprene promotes natural heat release.Helps compress and support the injured area.

⦿ Works with the body's natural healing process.

⦿ Ergonomic design ensures comfort.

⦿ Easy-close tabs for quick attachment and release.

⦿ Lightweight and undetectable under most clothing.

⦿ Available in two colors: black and beige

⦿ Available in two sizes. See below for sizing guide.

⦿❤️ Love this knee support or your money back 28-Day Money-Back Policy
Sizing

Small/Medium: 

Above Elbow (Bicep): Up to 31cm around

Below Elbow (Forearm): Up to 27cm around

Large/XLarge: 

Above Elbow (Bicep): 32cm to 45cm around

Below Elbow (Forearm): 28cm to 37cm around

How to Measure: Measure your arm above your elbow around your bicep with a piece of string or measuring tape to find out which size is best.

Please note: Make sure to measure your arm before purchasing a Large/XLarge. We have designed our Small/Medium to fit MOST people and our Large/XLarge to suit those who need a bit of extra length. 
Care Instructions

The Magnetic Elbow Support is 🧼 completely hand washable.

⦿ Use a mild detergent to hand wash and soak your elbow support and then rinse until the water runs clear and there are no bubbles.

⦿ Be sure to completely rinse it to avoid any skin irritation from detergent residue.

⦿ Hang dry, in the sun if possible.

For specific instructions on how to keep the adhesive closures sticking, see our Blog Post on this with video instructions.

Warning: Do not machine wash under any circumstances as this could break or fracture the magnets within your support, causing them to be ineffective.
Materials

The elbow support is made from high quality neoprene and contains elastic for comfort and stretch.

Each therapeutic magnet within the bio magnetic elbow support has a gauss rating of 1000+; to find out more about Gauss Rating click here.
Disclaimer

Please Note: BioMagnetic Sports products are not a substitute for medical care. Consult your doctor if symptoms persist. If you are pregnant and/or have a pacemaker or insulin pump please get your doctor's advice before using magnetic products.
"I can't believe how well these work.
I've had elbow pain for years, had to immobilise my arm for many hours of the day, driving was extremely painful.
Heavy pain killers are yummy but didn't really help.
This bit of neoprene and magnets has f***ing cured it.
How!!!? I would like to request a full body suit please."
Plastic Free Packaging

Our packaging is 100% recyclable and plastic free. It is also friendly to arthritis hands.

1000+ Gauss Rating

Powerful therapeutic magnets embedded into every single one of our products. Giving you maximum healing potential. Read more...

20 Years of Quality

We make our products to last, some of our customers have been using their back supports for 10+ years before needing a new one.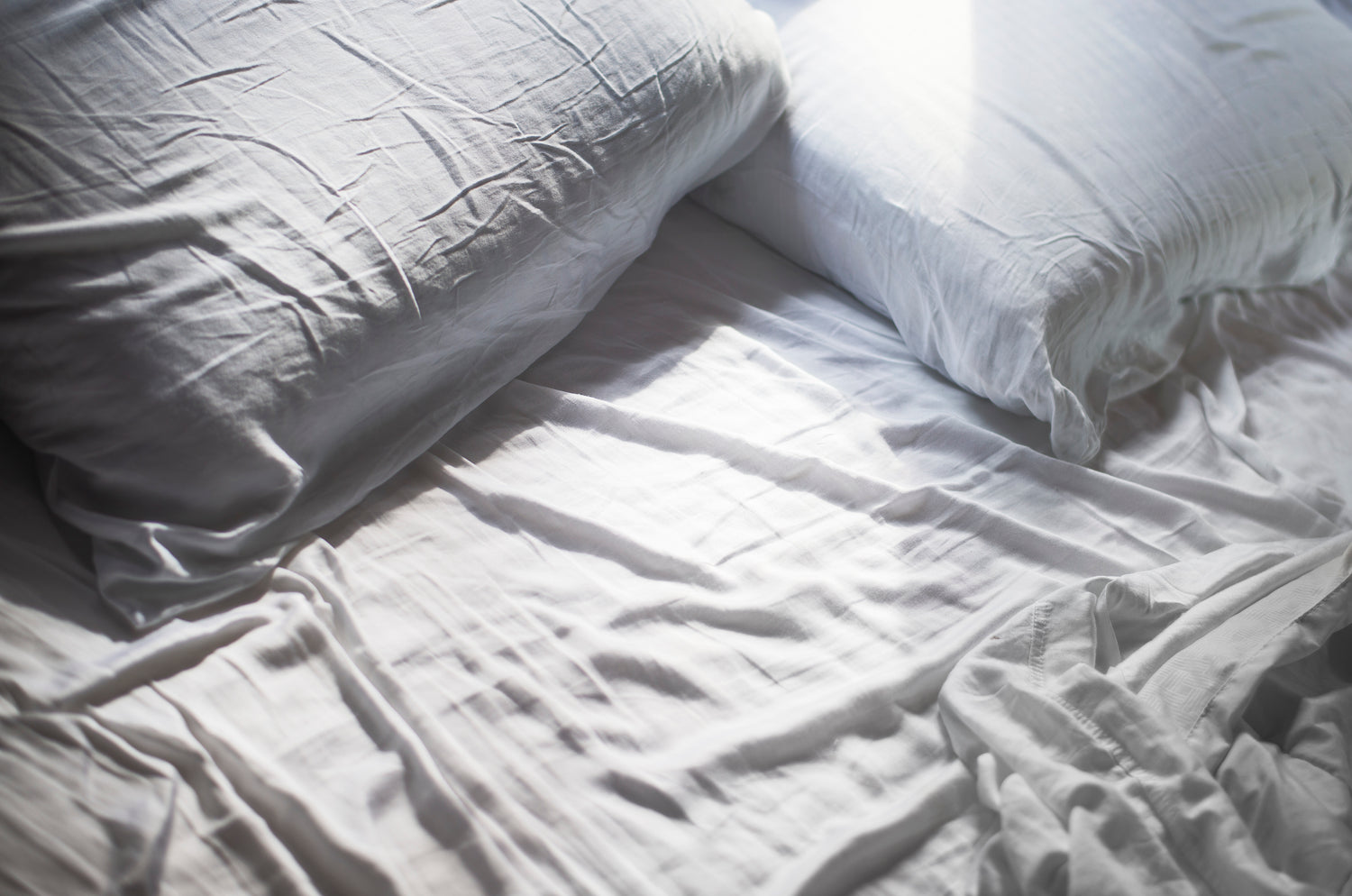 Can you wear it to bed? 💤
This is our most frequent question, and the answer is YES! However, we do suggest keeping it looser so that you are comfortable throughout the night. Wearing the elbow support belt wrap while you sleep gives you increased exposure to the therapeutic grade magnets. The wrap style gives you mobility and flexibility while still allowing you to tighten it down for compression.
How many magnets are in the Magnetic Elbow Support Wrap? 🧲
There are 12 therapeutic grade magnets in the magnetic elbow support wrap, all with a gauss rating of 1000+ for maximum penetration into the tissue.
Will it help with my elbow condition?
Many of our customers with various conditions have found relief with our Magnetic Elbow Support Brace. Some of these conditions have included tennis elbow, golfers elbow (medial epicondylitis), elbow tendonitis, cubital tunnel syndrome, ulnar nerve entrapment, bursitis elbow and many more. We also have our Money Back Policy so you can try it risk free!